A raging ROAD driver spilled a man's foot during an argument in a Burger King parking lot.
William Young saw red after crashing his Audi A3 into another vehicle in Shripney Road, Bognor.
The 22-year-old admitted to victim Mark Gilbert that he wasn't paying attention, and the two drove to the parking lot of the fast food restaurant to exchange details.
Young became abusive and threatening and yelled, "There is no damage f ******."
Returning to his vehicle, he cranked the engine and then backed up on Mr. Gilbert, who was standing near the driver's door and was dragged under the steering wheel.
Young then drove on a grassy edge and a cycle path, before abandoning his car and fleeing in a "moment of recklessness and silliness."
Mr. Gilbert sustained leg injuries and was unconscious and had to undergo weeks of treatment.
Young was convicted of dangerous driving, although he claimed he was acting in self-defense.
At Lewes Crown Court, Honorary Judge Janet Waddicor handed down an 18-month suspended prison sentence.
Lyndon Harris, prosecuting, revealed that the incident took place in May 2019 and said there was a low-speed collision.
Mr. Gilbert was traveling in the second vehicle with his wife.
At first, the accused, then 19 years old, apologized, then became confrontational.
Young was revealed to have taken cocaine the night before, but claimed it was not the cause of his misconduct.
Mr Gilbert said: "It was a really scary moment, I could see my wife was moved, it was not pleasant to see.
"I have never been taken to the hospital by ambulance before, I had my clothes cut. For four or five weeks after that, I was unable to take care of myself.
It was revealed that the incident put enormous pressure on the couple. Mr. Gilbert added: "Overall the experience has been really horrible."
Aphra Bruce-Jones, defending, said her client had acted out of character. He lost his job in accounting, where he hoped to build his career.
He has since lost his job at a home improvement company because he was banned from driving.
"He was driven by panic and fear," she said. "He shows remorse for his stupidity and carelessness that day. It was an extremely disappointing opportunity.
Judge Waddicor said Young's "panic and fear" was due to his "cowardice" in the belief that the police might show up and find out that he was driving with cocaine in his system.
The judge said: "You had a road collision and you reasonably agreed to go somewhere where the details could be exchanged. You ended up in the Burger King parking lot.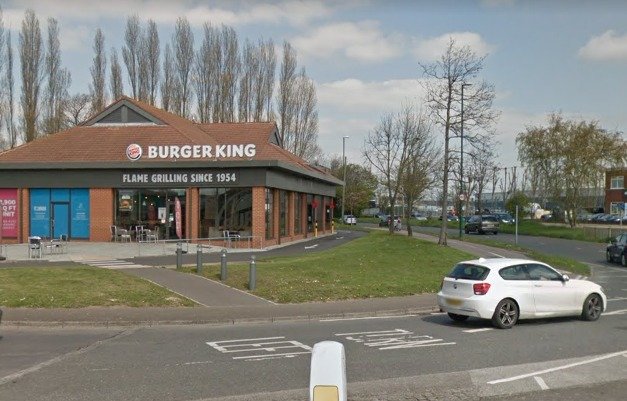 The incident took place in the Burger King parking lot in Shripney Road, Bognor
"When Mr. Gilbert's wife inspected the damage, you got aggressive. Even if there was no damage, you don't need to get aggressive. You might have thought you didn't want the police to intervene. There were traces of cocaine in your system.
"Spirits have risen and you have become aggressive. You started to reverse and accelerated quickly.
"It ended with Mr. Gilbert being dragged under your car. Everyone thought of the concern for Mr. Gilbert at first, but you left.
"This is a clear example of road rage. You caused serious injuries to Mr. Gilbert. He could have been killed by your actions.
Young, 22, Hook Lane, Bognor, was given a suspended sentence and ordered to do 100 hours of unpaid work and 20 rehab sessions. He is also to pay an additional £ 140 and compensation of £ 750 to Mr Gilbert. He was banned from driving for 18 months and must undergo an extended re-test before being allowed to return to the road.
• For news delivered directly to your inbox, subscribe to our newsletter here. And for the latest court news, like our dedicated Facebook group here.
More about this article: Read More
Source: www.theargus.co.uk
This notice was published: 2021-05-09 04:00:00