Hundreds of protesters gathered in the city center tonight to show solidarity with Palestine following the violent clashes in Jerusalem.
Crowds started gathering at the Clock Tower in Brighton at 6 p.m. for a socially distant rally that called for an end to violence against the Palestinian community.
Protesters displayed Palestinian flags and held up signs that read "Save Shekih Jarrah" and "Freedom for Palestine".
Protesters at Brighton Clock Tower
Some activists climbed onto a ledge just above the base of the tower and hung a banner that read: "Save Shekih Jarrah – Stop All Israeli Ethnic Cleansing."
Speakers included members of the Brighton and Hove Palestine Solidarity Campaign and members of the Palestinian community were also invited to speak.
Chants of "Free Palestine" could be heard with the crowd bursting with cheers in response.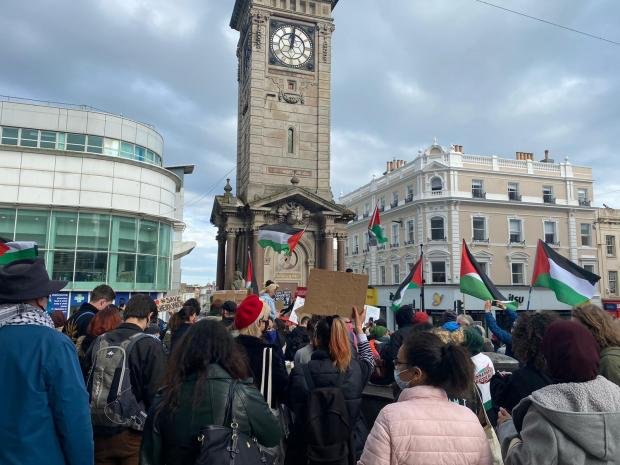 The Brighton protest was organized to show solidarity with Palestine
Stewards dressed in black high-visibility jackets were in attendance, handing out masks and hand sanitizer among the crowd.
The protest was staged after hundreds of Palestinians and around two dozen police officers were injured amid the worst religious unrest in years.
At least 180 Palestinians were injured in clashes with Israeli police at a holy site in Jerusalem, Palestinian doctors said, 80 of whom were taken to hospital.
Banners stating "freedom for Palestine" were held in Brighton
It came as police fired tear gas and stun grenades, some of which landed in the Al-Aqsa Mosque.
Israeli police said Palestinians threw stones, chairs and other objects at officers and at a nearby road near the Western Wall, where thousands of Israeli Jews gathered to pray.
In a statement, suspected police extremists were behind the violence and said they "will not allow extremists to undermine the safety and security of the public."
The latest violence inside the mosque came after days of growing tension between Palestinians and Israeli authorities in Jerusalem's Old City, the emotional zero point of the conflict.
The holy place, known to Jews as the Temple Mount and to Muslims as the Noble Sanctuary, is considered the holiest site in Judaism and the third holiest site in Islam.
The compound is the epicenter of the conflict and has been the trigger for series of Israeli-Palestinian violence in the past.
More about this article: Read More
Source: www.theargus.co.uk
This notice was published: 2021-05-11 18:53:00