Primary school staff and parents launched new strike action today against plans to turn a school into an academy.
Members of the National Education Union at Peacehaven Heights Primary School formed a picket line outside the school, before protesting outside Lewes County Hall as the council's first plenary meeting in no one has occurred since the Covid-19 restrictions were lifted.
The activists are firmly opposed to the final handing over of the school to the trust of the STEP academy.
Local governing bodies of Peacehaven Heights Primary School and Telscombe Cliffs Primary School have been tasked with exploring the conversion of academies in 2019 to raise standards – but following a strike at both schools , they decided not to convert.
Activists formed a picket line at the school today
Interim Executive Boards (IEBs) were then imposed on schools by East Sussex County Council in September of that year, pending the Department of Education "to actively consider a solution to 'sponsored academy'.
A consultation on the conversion is now scheduled to take place this fall.
But activists say the IEB has made various decisions without consulting parents – and students also recently protested the appointment of a permanent principal, with the school being run by five different principals over the past five years.
Kerry Gilbert, a parent with two children in Peacehaven Heights, said she felt "incredibly disappointed" with the IEB.
She said: "They filled the pool without any discussion with the parents, leaving many children without access to swimming lessons.
"They stopped the beach school, which was an incredibly important educational provision in school for all children, especially those with special educational needs like my son.
"It was clear from the start that behavior and attendance statistics are much more important to IEB than the mental health and well-being of students.
"I want a local governing body to be put back in place as soon as possible so that the community can decide what will happen to our school, rather than decisions being forced on us by an IEB, whose president has never even visited. school. "
East Sussex County Council said the current IEB president, who took office in November last year, has yet to visit the school because "she has followed the guidelines government and school risk assessment in relation to the Covid-19. pandemic ".
A spokeswoman previously told Argus that a final decision on academy status would be made by the entire IEB.
She said: "The IEB was set up as a result of concerns from local authorities about children's performance in school and the ability of the school board to achieve sufficient improvements.
"Improving outcomes for the children of Peacehaven Heights and ensuring greater stability in school is paramount for the IEB.
"The IEB decided that the best way to make the necessary rapid improvements was to seek an academic solution.
"The councils will not hold a consultation until all of the current Covid-19 lockdown requirements are removed so that everyone can be reassured that this is a meaningful consultation."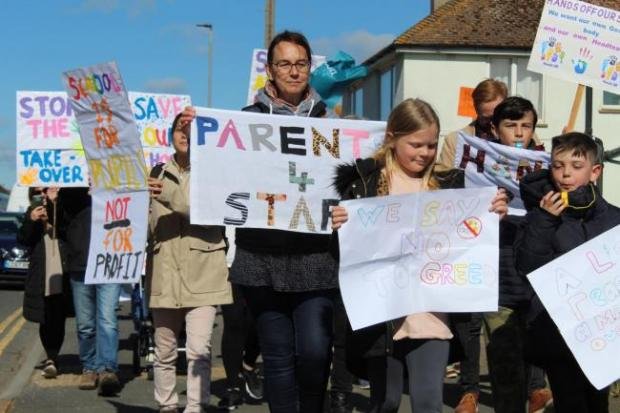 Students, parents and staff took to the streets earlier this month to protest against the academy's plans
Speaking of today's protest, Craig Arden, Regional Officer for the National Education Union, said: "Unfortunately, we have not received any assurances today that East Sussex County Council has intends to re-establish local governing bodies to decide the future of Peacehaven schools. time.
"Peacehaven recently elected two new councilors who have pledged to fight to keep Peacehaven schools as community schools, and the NEU will continue to campaign with parents to ensure they retain local democratic accountability of their schools.
Councilor Chris Collier, newly elected County Councilor for Peacehaven, said: 'I am disappointed that staff have been led to a second day of strike action and call on East Sussex County Council to put a body back in place. local manager.
"Any consultation can then be conducted by them in a transparent manner that puts the best interests of the students first, rather than this headlong dive into forced academicization."
More about this article: Read More
Source: www.theargus.co.uk
This notice was published: 2021-05-25 16:25:10