The Queen celebrated what would have been the Duke of Edinburgh's 100th birthday by planting a newly selected rose named after her late husband.
The monarch received the gift from the Royal Horticultural Society (RHS) and viewed his plantation in the grounds of Windsor Castle Gardens last week to remember Prince Philippe.
He would have celebrated his centenary on Thursday.
The queen, wearing a blue dress and sunglasses, described the Duke of Edinburgh Rose, which is dark pink and has double flowers, also "beautiful" and the homage as "very kind".
RHS Chairman Keith Weed told the Queen: "This is a rose named the Duke of Edinburgh rose to mark his centenary and it is a memorial rose for all the wonderful things he did in his life and for everyone to remember everything he did.
"Every rose there is a donation that goes to the Living Legacy Fund that will help more children. It is a beautiful flower in itself, a double flower."
The Queen said: "It is magnificent."
Prince Philip died at Windsor Castle on April 9. The rose was newly bred by Harkness Roses, who have been breeding and cultivating British roses since 1879.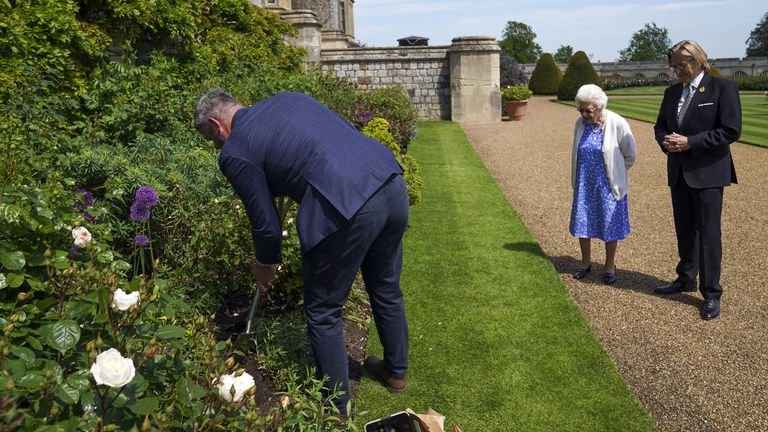 The company will donate £ 2.50 for every rose sold to the Duke of Edinburgh's Award Living Legacy Fund, which will help an additional one million young people from all walks of life and circumstances to participate in the youth awards program set up by Philip in 1956.
Since his death, the fund has already raised half a million pounds.
The monarch gazed at the small bush of shrubs planted by Windsor Chief Gardener Philip Carter in front of the eastern mixed rose border of the castle …
More information about this article Read More
Source: news.sky.com
This notice was published: 2021-06-09 20:19:00