A disgraced stable owner was spared jail after the horses in her care were starved and in pain.
Kate Greenhalgh of Pulborough had offered livery services at stables near Fernhurst in Sussex.
It included horses donated to her by GB team Olympic rider Gemma Tattersall and horse lover Nikki Cochran.
Mrs Cochran's horse, Kai, sadly died because he was in a very bad state of malnutrition.
One of Mrs Tattersall's horses was lame due to an untreated infection in her leg.
Shocking images show the "emaciated" condition of the animals, with bones such as their ribs and spines protruding from their bodies.
Shocking footage of starving horses kept in a state of distress by Kate Greenhalgh in Sussex. RSPCA Pictures
At Brighton Magistrates' Court, Greenhalgh admitted five counts of causing unnecessary suffering to an animal.
District Judge Amanda Kelly saved the 30-year-old rider from immediate jail time over the shocking abuse.
Greenhalgh, who ran the KG Equestrian stables, was given a 12-week suspended prison sentence and 120 hours of unpaid work.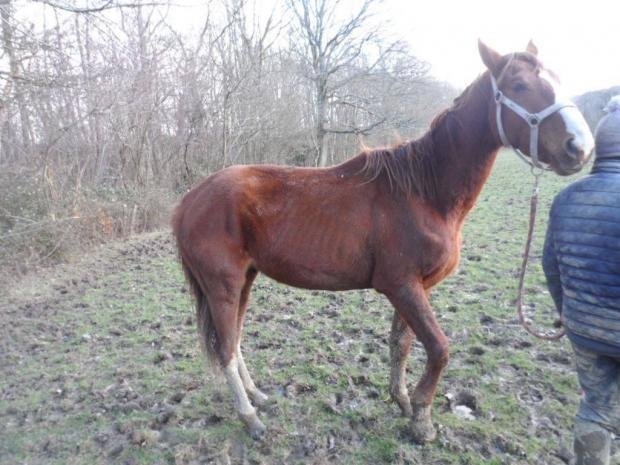 The horses were left hungry by Kate Greenhalgh in Sussex. RSPCA Pictures
The owners had told Greenhalgh that if there were any issues with the food or the vets they could be contacted.
Ms Cochran visited her horses there regularly, but had to stop while her husband received intensive medical care.
Olympian Ms Tattersall said: "I told her she could contact me if something was wrong. Although my horses are valuable, regardless of how much a horse needs to be fed.
"As owners of horses, we are all aware that they can get injuries, but they need to be treated.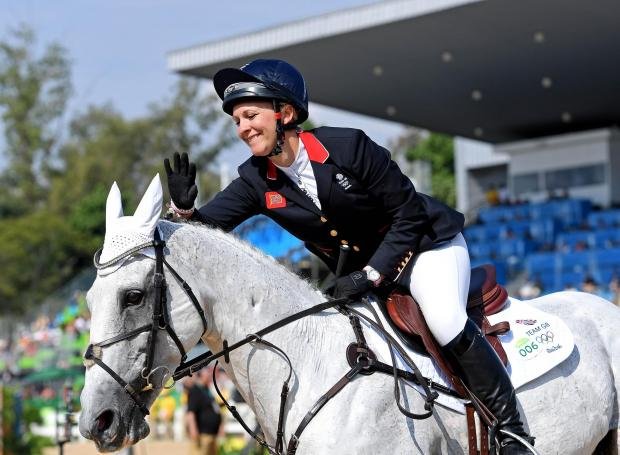 Olympic rider Gemma Tattersall gave three horses to Kate Greenhalgh in Sussex
"When I saw the photos I was completely shocked. The condition of the horse looked so bad I couldn't believe they were still alive.
"I've just never seen a horse like this before."
The court heard how Greenhalgh, herself an eventing rider with experience in horses, failed to take steps to feed all four horses and get effective veterinary treatment on time between December 2019 and March 2020.
The public raised concerns after seeing a horse collapse in the field.
Inspector Becky Carter, RSPCA Inspector Kate Barnes and World Horse Welfare Chief Officer Claire Gordon arrived to be told that the horse, known as Kai, had already been asleep and that his body had been removed.
The shocking photos taken by the RSPCA
Inspector Carter said: "When we arrived we checked the horses at the site and found two of them, Adelaide and a young foal, in very poor body condition.
"A third horse, Val, was totally emaciated. Adelaide and Val also suffered from severe mud and scalding fever from the rain – they had a lot of hair loss and sores on their coats and legs.
"The young colt was so lame he couldn't carry weight on one leg and could barely walk. He had a very high heart rate indicating that he was in great pain.
"The vet discovered he had an abscess on his foot which he said had been in this condition for over a week as the infection had moved up the horse's leg and needed to be drained of a large amount of pus. .
"They certified that the three horses were in pain and the police allowed us to remove them. "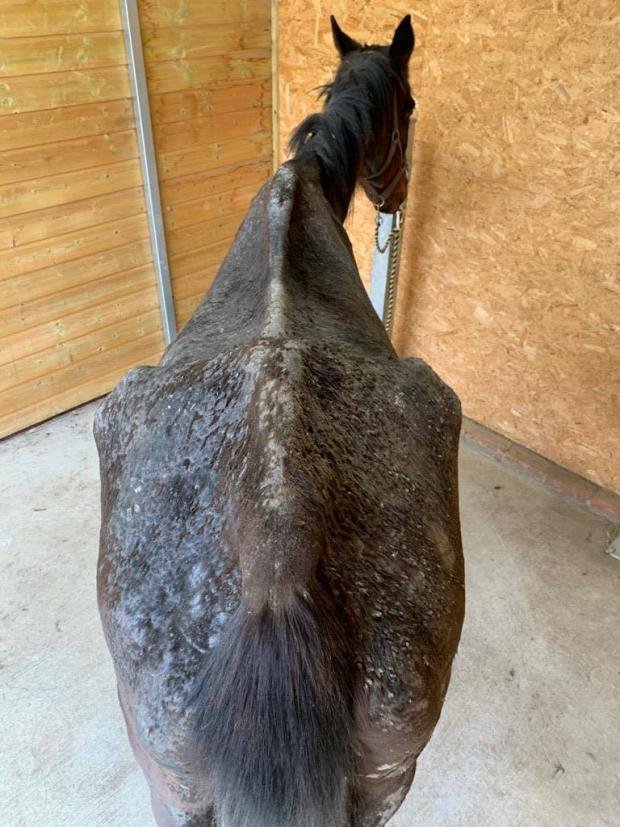 The horses were in a terrible state. RSPCA Pictures
Ms Cochran previously spoke in court about the devastating impact of the death of Kai, who was a unique breed and cost her family £ 3,000.
She said: "I was proud to have bought a foal with such a special breeding. So standing in that field watching the horse of my dreams die was almost too hard for words. I was severely traumatized by what I witnessed.
Following the judgment, Inspector Carter said: "It was such a sad case to investigate as the poor health of the horses could have been prevented with proper care and following the advice of the vet.
"These horses were in the care of Greenhalgh, who is a competitive rider, as part of a professional arrangement through her company KG Equestrian, where she took horses in livery for support, competition and sale.
"It's especially sad for horse owners because they felt their animals were being cared for.
"Fortunately, Adelaide, Val and the young colt have been returned to their owner and have made a good recovery."
Kate Greenhalgh has been prosecuted. Photo from Facebook.
Claire Gordon, Managing Director of World Horse Welfare, said: "I was delighted to support the RSPCA's investigation and to see Ms. Greenhalgh shoulder her responsibilities in court by pleading guilty, acknowledging the gaps in care that she provided these horses.
"She is an experienced equine professional who did not recognize that she had taken more than she could handle and rejected offers of help from those who were concerned around her, which ultimately caused pain. needlessly the horses she took care of.
"These horses had owners who could have been returned, had she recognized that she was not doing it, but instead chose to let them suffer."
Greenhalgh, of Spinney North, Pulborough, has been ordered to complete unpaid work in the community as well as ten rehabilitation sessions with the probation service.
She was ordered to pay £ 750 in court costs and a surcharge of £ 128. She also has to pay a compensation order, supposedly to Ms Cochran, worth £ 3,650.
More about this article: Read More
Source: www.theargus.co.uk
This notice was published: 2021-06-09 14:11:19