A MOTORIST was jailed after he swallowed five pints of Stella and got behind the wheel – killing two elderly women.
Ryan Dowling was caught by CCTV drinking lager before crashing his car into the back of another driver, killing two passengers.
He was racing in his Ford Focus at the time of the fatal crash, which killed pensioners Gillian Casey, 75, and Anne Wales, 80.
The 29-year-old admitted two counts of causing death by dangerous driving and was sentenced to eight and a half years in prison.
Judge Timothy Mousley QC said: "Dowling's ability to drive safely was severely impaired and the cause of the collision was his prolonged and persistent dangerous driving.
"Two people lost their lives. Others could have.
"Anne and Gillian's husbands must live with the horrific memory of the collision in which their deeply loved wives died."
Ryan Dowling was caught on CCTV drinking at least five pints of Stella
Dowling was drinking at The Heron pub in Petersfield Road, Havant, shortly before the crash.
After leaving the pub he was seen driving over 70 mph on the A27 near Chichester, overtaking cars at the last possible moment.
He crashed into a purple Renault Zoe, described as driving well within speed limits and visible to other road users.
Ms Casey and Ms Wales – both from Chichester – were pronounced dead at the scene on February 27 last year.
A third passenger was seriously injured, while a fourth passenger and the driver both sustained minor injuries.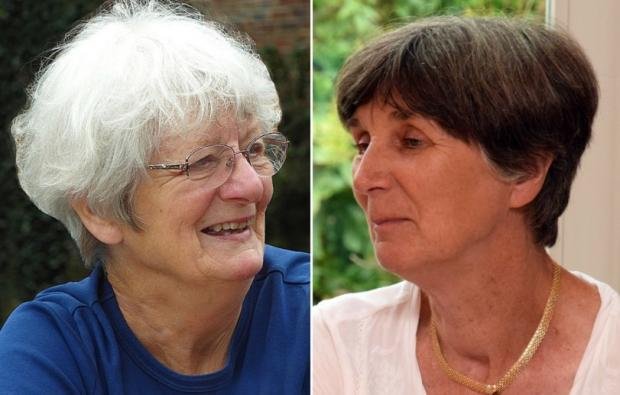 Gillian Casey, right, Elizabeth Wales, left
Dowling also suffered serious injuries and was treated in hospital.
A blood sample was taken for analysis and showed he had 97 mg of alcohol per 100 ml of blood in his system. The legal limit is 80 mg.
Dowling was questioned by police and answered "without comment" to all questions put to him.
But CCTV from the pub showed him drinking at least five pints of strong Belgian Stella Artois lager.
Dowling appeared in Portsmouth Crown Court, where he also admitted charges of serious injury from dangerous driving.
Ryan Dowling was sentenced to eight and a half years in prison
Judge Mousley QC told him: "Your criminal actions had serious consequences for their families and so many people who knew them.
"Anne and Gillian had touched the lives of many others. They met through charity.
"They were devoted to their husbands and loved by their families – especially children and grandchildren."
Dowling, of Emsworth, was also banned from driving for six and a half years.
Speaking after the conviction yesterday, Detective Constable Greg Brown said: "Dowling's selfish and irresponsible actions, choosing to drive at high speed and after consuming a large amount of alcohol, tragically claimed his life to Mrs. Wales and Mrs. Casey.
"This unfortunately confirms the warning we repeatedly issue on road safety that drinking and driving destroys lives.
"This incident not only claimed the lives of two beloved women, but also affected their friends and family, and will also have an impact on the accused for years to come.
"Alcohol consumption tarnishes drivers' perception, slows reaction times and increases risky behavior. Driving at excessive speed means that a driver has less time to react and more injures road users in the event of an accident.
"Our advice is simple. Drink or drive, never both."
More about this article: Read More
Source: www.theargus.co.uk
This notice was published: 2021-07-03 10:35:00