THE BOSS of the Royal Pavilion in Brighton says now is the best time for locals to visit and enjoy its historic buildings.
Hedley Swain, CEO of the Royal Pavilion and Museums Trust, said the reduced number of visitors means the people of Brighton can experience the city's museums "in a way they have never been able to do before".
Local visitors are encouraged to consider exploring all of the Trust's sites, including the Royal Pavilion, Brighton Museum and Art Gallery, Preston Manor and the Hove Museum and Art Gallery, which will reopen on July 19.
Hedley Swain at the Brighton Museum
Hedley said: "My call to the locals is to visit because not only are you helping us at a difficult time, but you are getting the pavilion and the museum that you have never had before.
"You can really take your time, have a really great experience right now.
"We won't have the overseas visitors and the big groups that we have become so dependent on for a while, and I think there are a lot of people in Brighton and Hove who know the Pavilion but may not have it. never be.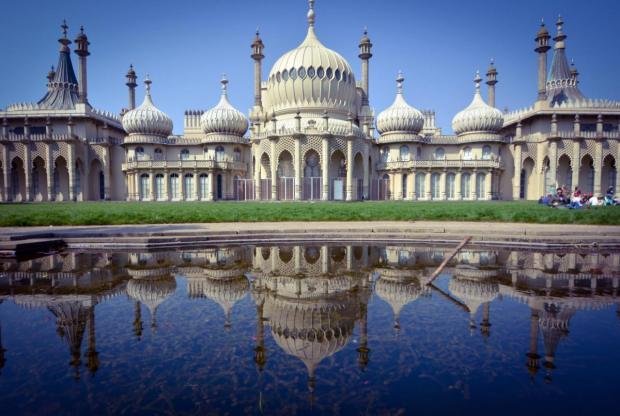 Brighton Pavilion and Museum
"My big call to them is that if you enjoy the museums and the pavilion, please help us by coming and visiting and telling others to visit.
"Take advantage of this moment when they are a little quieter, and the visit will be more pleasant."
Hedley became head of the charitable trust that runs museums on the first day of the second national lockdown in November.
After working alone in the Pavilion throughout the lockdown, he said he was delighted when the historic monument was able to welcome visitors through its doors again.
He said: "We were completely closed, all the staff were on leave knowing how difficult it was financially.
"I used to come to the lodge every day and the only people there were security. But it gave us a chance to do a lot of thinking and planning.
"It also means that now, spring summer, when we opened, we felt even more enjoyable. It was lovely to walk around the lodge and see people enjoying it.
"But again, the staff here who have been here in previous years remind me that even though we have had visitors, they are nothing like what they have been in previous years.
"We all have to come together, work together very closely to get everyone back, but we have such a fabulous offer.
There are so many other places in the country that have nothing to do with what we have to offer in Brighton.
For more information on the Royal Pavilion and the museums, visit https://brightonmuseums.org.uk/about-us/royal-pavilion-museums-trust/
More about this article: Read More
Source: www.theargus.co.uk
This notice was published: 2021-07-04 04:30:00