A new series on domestic violence will be on our TV screens Sunday. ...
Fighting ... Maureen and her husband Philip, who has multiple sclerosis (Photo: OLIVIA MASSIE)Maureen Kirchin has contacted the NHS East and North Hertfordshire on...
A father and son have died after being gored by a water buffalo on their family farm in Wales, an investigation has found. Ralph...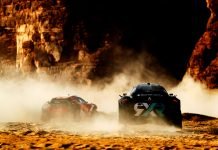 While Damien Smith had a close-up view of the inaugural Extreme E (XE) event in the Saudi Arabian desert, I had a more distant...
Speaking at an event at the British Science Museum, the country's chief medical officer said we are "by no means out of the woods...
Aston Martin has updated every model in its lineup for 2021 - showcasing the changes via a new configuration platform - as the latest...
The UK government's flagship race-to-high policy is likely to fall far short of what is required, economists have warned. The reprimand comes after Prime...
A Somerset mother praised the support she received from a hospice while caring for her child with complex care needs before and during the...
A 16-year-old boy who graduated earlier has been offered a place at Oxford University. ...