Britain is sending tens of thousands of tonnes of carbon into the atmosphere because its electricity grid operator is prioritising gas-fired power stations over battery storage, Sky News has found.
National Grid Electricity System Operator (NGESO) has been dramatically under-using the battery storage available to it, skipping those cells and relying instead on other power sources, including fossil fuels.
Analysis for Sky News by Modo Energy, an energy data analytics platform, found that these decisions to "skip" available battery storage and fire up gas power stations created 71,000 tonnes of extra carbon emissions in the year to October alone – equivalent to the annual emissions of 44,000 petrol cars.
The revelation, which comes as ministers and delegates in Dubai near the conclusion of the latest round of COP talks, underlines the extent to which today's power systems are struggling to accommodate new, green technology – with the upshot, perversely, of more carbon emissions than there should be.
Ben Guest, managing director of New Energy at Gresham House, which controls the single biggest fleet of battery parks across the UK, said that these lithium ion cells, dotted around the country, are part of the answer to how to eliminate carbon emissions.
The theory is that they charge when there's more power being generated than is needed, and then send that power back to the grid when the wind isn't blowing hard enough or during peak periods.
But, at present, Mr Guest said, National Grid is choosing to skip its batteries about 80% of the time.
"Unfortunately, it means if you've got to fire up gas [power stations] to provide that flexibility, they've also got to push something else off [the grid], and it's invariably wind generation.
"So, we're curtailing and paying to turn off perfectly good, renewable generation to a fairly significant degree."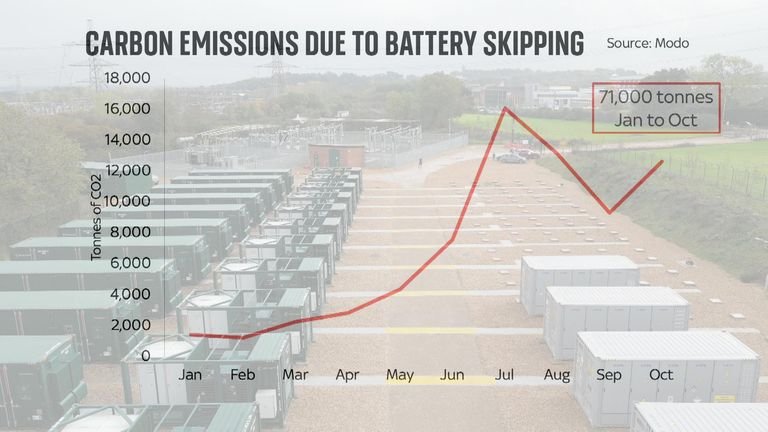 The…
More information about this article Read More
Source: news.sky.com
This notice was published: 2023-12-08 17:09:00
Sky News is a British 24-hour information television channel, the first in Europe of its kind, launched on February 5, 1989 by the British Sky Broadcasting Company.