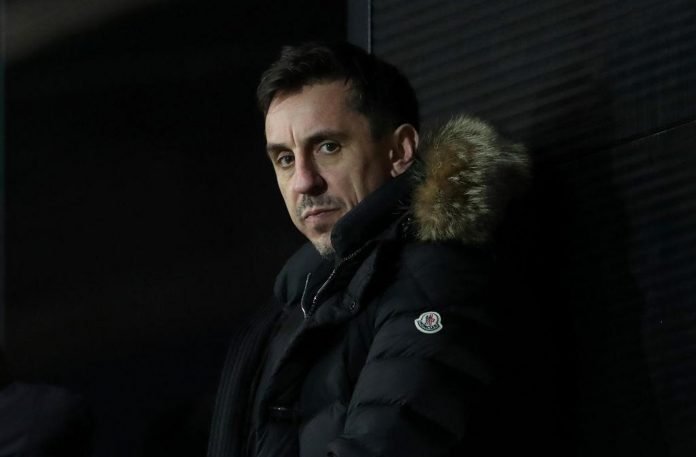 Sky Sports expert Gary Neville has argued that Leeds United should leave the field when they play Liverpool on Monday night amid ongoing controversy over plans to form a new European Super League.
Gary Neville. (Photo by Alex Livesey / Getty Images)
Last season's champions are one of six clubs, along with Manchester United, Manchester City, Chelsea, Tottenham and Arsenal, who confirmed on Sunday that they are set to become founding members of a new competition that would pit them against a selection of players from the continent. larger sides weekly.
Neville made his feelings towards the plan very clear during his co-comment on Manchester United's 3-1 win over Burnley this weekend.
Speaking on Sky Sports, he said: "I am a Manchester United fan and have been for 40 years, but I am disgusted, absolutely disgusted.
"What I dislike the most are Manchester United and Liverpool.
"Liverpool, they pretend (with) 'You will never walk alone' (they are) the people's club, the fan club.
Manchester United: 100 Years, Born of Workers. And are they entering a league with no competition, from which they cannot be relegated?
"It is an absolute shame. Honestly, we have to regain the power in this country of the clubs at the top of this league, and that includes my club. "
Liverpool are in live action on Sky against Leeds on Monday night, and the former England full-back continued his offensive against the so-called 'Big Six' arguing that the Whites should withdraw from the field.
Writing on his personal Twitter account, Neville said: "Leeds players should walk to the side of the field and let them keep scoring!
"They don't want competition …"
More about this article: Read More
Source: www.yorkshirepost.co.uk
This notice was published: 2021-04-19 14:17:46