ANTI-LOCKDOWN protesters halted traffic in the city center as a thousand protesters crossed the streets.
Crowds started to gather at Brighton station shortly after noon, handing out flyers chanting "you can stick your Covid passport in your ***".
The meeting point for the protest was at Hove Lawns Peace Statue, where protesters gathered from 1 p.m.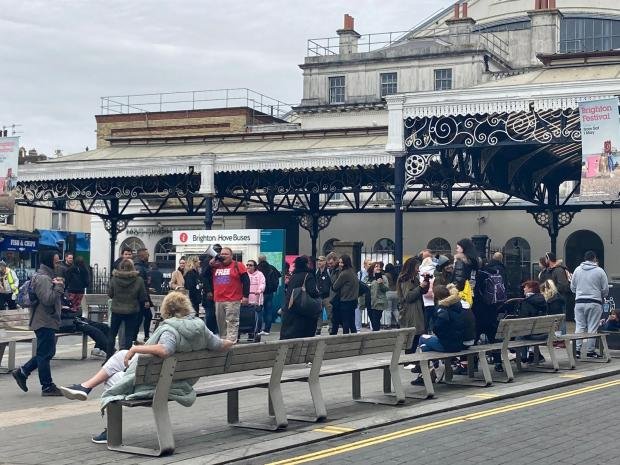 From there, protesters waved banners, whistled and shouted "freedom" as they marched along the waterfront.
The Argus attempted to speak to the protesters during a live Facebook broadcast.
It ended after a protester offended the masked journalist and questioned whether he was an "infiltrator".
Traffic on the seafront was halted when protesters crossed the A259 road near Brighton Palace Pier.
The large crowd walked past Steine ​​Gardens as a loudspeaker played a rap song with the lyrics "don't take the vaccine".
Horns of support could be heard as the protesters made their way to North Street.
Traffic in the city center was halted as protesters moved up the road. Brighton and Hove Buses had previously warned of travel disruptions.
Protesters marched along New Road after a police motorcycle blocked access to the rest of North Street, again leaving the line of buses and passengers free to move.
A woman with a microphone berated patrons as they enjoyed food and drink at New Road restaurants. Another protester tried to "educate" people who were making fun of the group.
Protester shouts at people having meals and drinks in New Road #Brighton through a microphone pic.twitter.com/5J0pos8Uu3

– Jody Doherty-Cove (@JodyyDC) May 8, 2021
Some applauded, but another passerby shouted "we have a doctor here" at the protester.
Addressing the Argus, the protester said: "I am here personally to defend my freedoms, to fight against lockdowns, to fight against business closures – forced business closures.
"They told you two weeks to flatten the curve, to voluntarily shut down your business. From now on, volunteering has become compulsory masks. "
Sussex Police officers marched with the group as they made their way down North Lane and back to Brighton station.
There were chants of 'shame on you' as the crowd pulled into the BBC offices on Queen's Road.
Several protesters affixed stickers to the building such as "resist the new normal" and "stay free".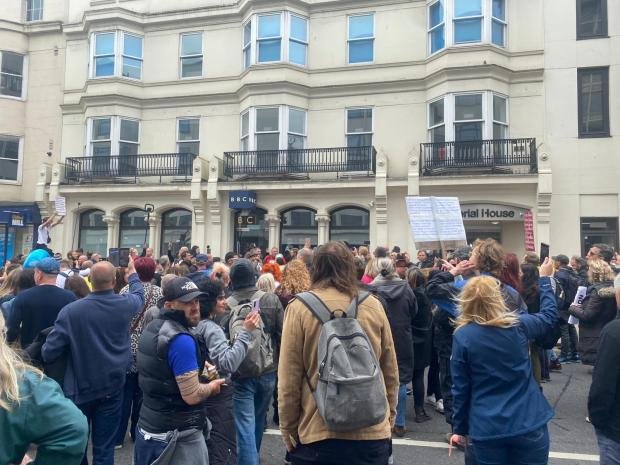 The march ended at the Statue of Peace where speeches were given by the participants.
A protester told Argus that people were participating for a variety of reasons.
In another protest, he said, a protester was marching after losing two people to suicide by the lockdown.
A man with a microphone walked through the crowd announcing another march in Bournemouth, which was due to take place on 22 May.
More about this article: Read More
Source: www.theargus.co.uk
This notice was published: 2021-05-08 17:46:08