A TEAM of veterans digs a field in Sussex where a WWII bomber crashed.
In June 1944, a B-24 Liberator was conducting a bombing raid near Paris when it was badly damaged by anti-aircraft fire.
The crew managed to get the plane back to England, but crashed into a farmer's field less than a mile from Arundel Castle.
Seven airmen were released on bail but three were killed.
Archaeologists attempt to recover remains of US bomber crew
More than 77 years later, a group of American veterans from American Veterans Archaeological Recovery teamed up with the University of York to attempt to recover human remains from the crash site so that they could be returnees to America.
Project manager Stephen Humphreys hopes the mission will end the family members of the deceased.
The former US Air Force captain said the farmer was deeply interested in the crash and played an important role in preserving the site.
"Our mission is to recover the remains of these soldiers who were lost when this plane crashed in 1944, to have them identified and, hopefully, to close some families if we can," he said. declared.
The four-week excavation involves an excavator removing piles of soil from a large trench and laying them on tarps ready for examination.
Humphreys said that although this is a "pretty traumatic crash site", there will be human material and human remains that have survived.
US Air Force photo of a Consolidated B-24 Liberator taken in the 1940s
"And the personal effects, a number of items that would have been carried by these airmen at the time, these can help us determine where in the wreckage we might find these remains," he said. .
"It's about making the details of the excavation as precise as possible so that we can be as specific as necessary to be able to tell where these individual ground finds are coming from as we search for these Airmen.
The crashed plane was part of the 489th Bomb Group, which flew B-24 Liberators from RAF Halesworth, Suffolk, for several months in 1944.
The group carried out tactical missions in support of ground forces in France, including saturation bombardment prior to the Allied final breakthrough at Saint-Lô in July 1944.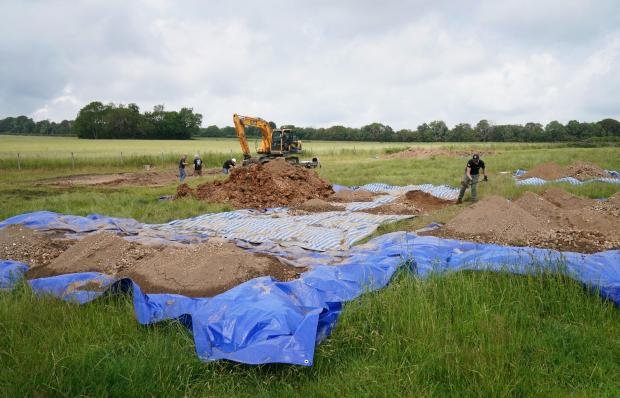 A search has started at the crash site near Arundel Castle
The dramatic accident was witnessed by a boy who lived on the farm and who would continue to ensure that the site was preserved for decades to come.
A memorial to the aviators is also located at the edge of the field.
More about this article: Read More
Source: www.theargus.co.uk
This notice was published: 2021-06-30 10:50:35