BESS strikes as Yorkshire chases victory in Sussex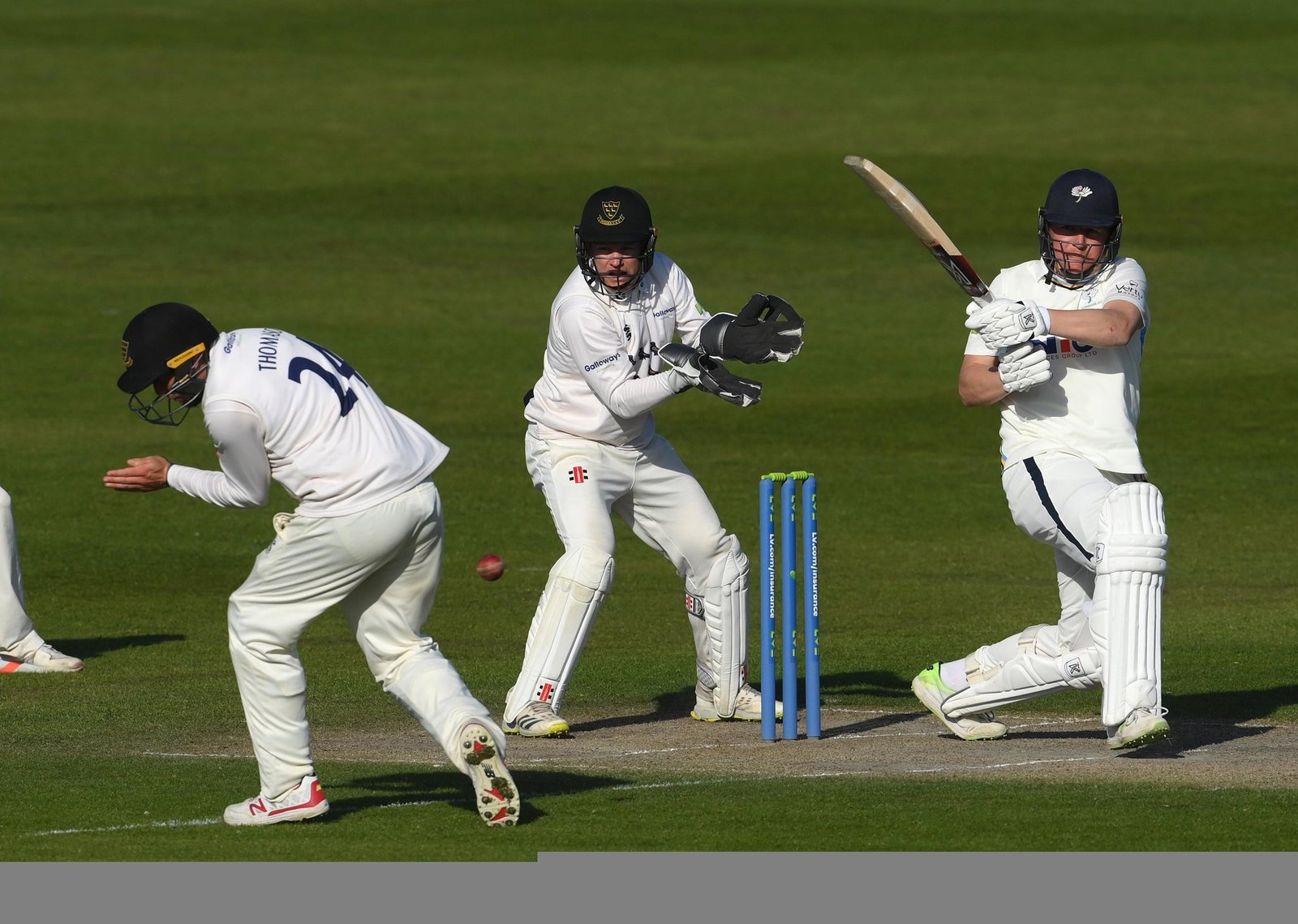 Gary Ballance from Yorkshire in action at Hove. (Photo by Mike Hewitt / Getty Images)
DOM BESS landed the first blow as Yorkshire tried to defend a 235 goal against Sussex at Hove.
The Englishman offside pitched Aaron Thomason for 10 to put the hosts 45-1 in the 12th inning.
At tea on the third day, Thomason's opening partner Tom Haines has 35 to his name and Stiaan van Zyl has seven.
The total has reached 59-1 with 31 overs remaining for the day.
Previously, Gary Ballance marked his return to action with an excellent half century.
Ballance scored 74 and Yorkshire made 305 in his second inning.
Ballance, who missed the first two games of the season with a concussion and all of last summer with various health problems, made his runs of 151 balls with seven fours.
He had started the day 36 for 163-5, a 92 lead, with captain Steve Patterson undefeated with four.
On another sunny but very cold day on the south coast, the balance was built up in typical flair.
There were many meaty pushes, bends and jerks, with Garton squashed down to the rope in the middle of the gate and then gently driven to the edge of Cromwell Road.
The southpaw offered a half chance, overcoming an Ollie Robinson pull to the long leg, where Alastair Orr, replacing Sean Hunt, was unable to reach the ball he was charging from the rope.
Otherwise, it was composite material as Ballance hit his 120-ball half-century with four fours while Sussex struggled in the early stages.
About 40 minutes had elapsed before Yorkshire lost its first wicket of the morning, Patterson attacked George Garton, the bowler with his left arm, for 12, as he tried to put the ball offside.
The visitors slipped to 226-7 when Ballance reached behind the wheel of Jack Carson and went lbw, having faced 151 deliveries in total and hitting seven fours.
Sussex then hit with the second new ball when Ollie Robinson caught Jordan Thompson on the first slip, where Thomason extended his right hand to seize a sharp opportunity.
Thompson scored 13 and was soon followed back to the pavilion by Dom Bess, who was awarded Robinson lbw for 19 from a ball that appeared to have been bouncing off the stumps.
Lunch was delayed with nine windows down at 1 pm, the 10th window pair of David Willey and Duanne Olivier hitting for the extra half hour.
Olivier dropped 10 balls after the break for 21 after adding 51 with Willey, who finished with 28.
Support The Yorkshire Post and subscribe today. Your subscription will help us continue to bring quality news to the people of Yorkshire. In return, you will see fewer ads on the site, get free access to our app, and receive exclusive members-only offers. Click HERE To subscribe.
More about this article: Read More
Source: www.yorkshirepost.co.uk
This notice was published: 2021-04-24 14:48:12