ONE MAN runs 21 ultra-marathons to raise money for an anti-suicide charity after nearly taking his own life twice.
Matt Bagwell, 52, will travel 1,050 km across England in September for Calm (Campaign Against Living Miserably).
In the UK 125 people kill themselves a week and 75% of them are men, Matt was almost one of them.
He had planned his own death twice, but instead sought help and discovered tools such as running and breathing to deal with his depression.
Matt said, "Why am I doing this challenge? I was here. I literally walked over the edge more than once. At the last moment, for love, for the family, for a little ray of hope, I chose another path.
"Now I want to share the hope because I know there are so many others across the country who are facing this same darkness.
"I want to raise funds for the professionals who save lives, every day. When a life is saved, someone on the phone gets paid at Calm, then every step, every mile, every ultra is worth it.
Matt hopes to raise awareness for both £ 100,000 at a suicide prevention charity through his 'Run the Country Ultra' event. The event coincides with World Suicide Prevention Day on September 10.
The Brighton-based ultra-runner and breathing trainer will run 21 consecutive ultra-marathons, which refers to a distance of over 26 miles.
The event begins in Cornwall on September 5th and crosses 43 county borders in England before ending in London on October 5th.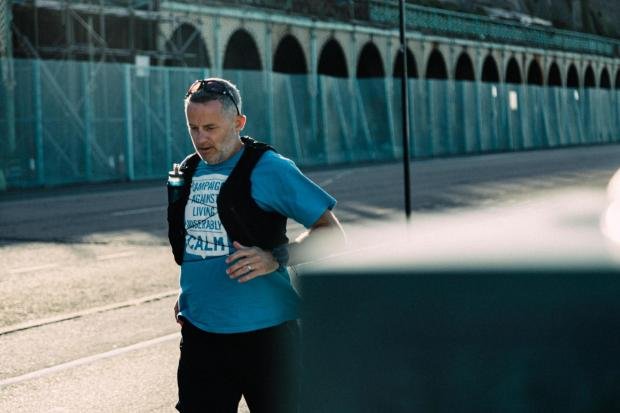 Matt is the father of two teenage girls. He is a certified artificial respiration instructor and runs free classes on Instagram every week under the pseudonym "lovetolearnto".
Earlier this year he rescued a suicidal man on Brighton beach while teaching a live breathing class on Instagram. He pulled the man out of the water and lay on top of him for a body heat transfer as he called for an ambulance.
Anna Jones, Calm's Director of Revenue, said, "Matt is one of Calm's most dedicated supporters, and his ambitious plan to lead the country in support of our rescue work is inspiring.
"His commitment to engaging with local communities and getting them to talk about Calm is essential in our fight against suicide and to ensure that people live less miserable lives.
"Matt is self-funding his challenge, which means all money raised goes to our helplines."
She added: "Any financial contribution you can offer to enable her to meet the challenge means that we can continue to be there for those who need us most, no matter what."
Run the Country Ultra will see Matt travel all of England's counties and there is an open invitation for people from all over England to join him on one of the route's 21 stages.
Route details are available at www.runthecountryultra.com/run-the-country-ultra-join-in
Do you have a story for us? Send an email to news@theargus.co.uk or contact us here.
Follow us on Facebook, Twitter and Instagram to keep up with all the latest news.
Sign up for our newsletter to receive updates straight to your inbox.
You can also call us on 01273 021 400.
More about this article: Read More
Source: www.theargus.co.uk
This notice was published: 2021-09-04 16:42:05