The mayor of Barnet has been invited to open a new pedestrian bridge as well as to mark the progress of the construction of apartments.
Councilor Alison Cornelius visited the Boathouse Apartments in Hendon Waterside, before opening a new bridge at Cool Oak Lane.
The developer presented him with a ceremonial trowel and was tasked with pouring concrete on the roof of the development as part of a traditional finishing ceremony.
Cllr Cornelius said: "The completion of the new block at Hendon Waterside is a key step in the regeneration of West Hendon. This development is helping to provide much-needed new housing in the center of the borough, which will not only help existing residents, but also attract new residents and visitors to the area.
"We are working closely with Barratt London and Metropolitan Thames Valley to ensure that the development adds significant improvement to the area, while celebrating and preserving the green space and reservoir nearby. "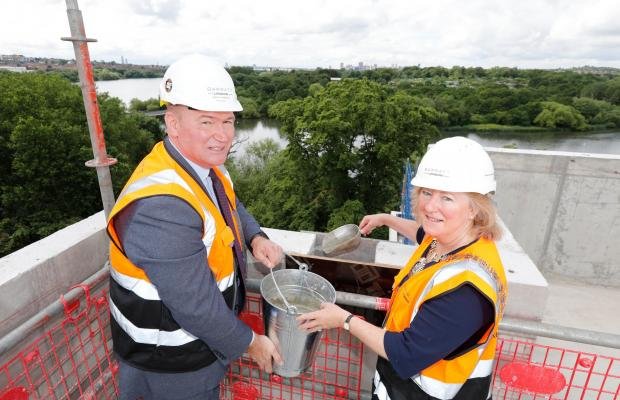 A brand new plaza and Co-op supermarket have also recently opened on the site, while the pedestrian walkway over the Welsh Harp Reservoir provides a new route to the nearby playgrounds and bowling club.
Danny Farenden, Project Director at Barratt London, said: "Hendon Waterside is playing a huge role in transforming Barnet, and we are proud to be at the forefront of this master plan.
"As the borough continues to evolve to meet the needs of its residents, we believe that by working in collaboration with the council, we are delivering the high quality homes we so badly need, over a thousand new jobs and opening up essential green spaces, to help the community thrive. "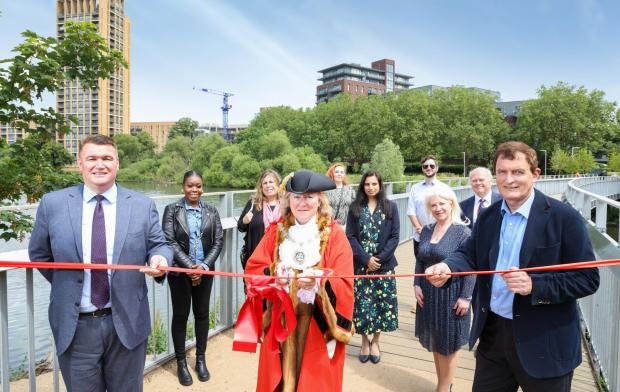 Lisa Johnston, Regeneration Project Manager at Metropolitan Thames Valley Housing Association, added: "It's fantastic to be able to mark this milestone with our partners in Barratt and Barnet and to see the bridge and amenity area already. appreciated by residents.
"West Hendon looks great and we are proud to work there."
The regeneration of West Hendon involves the construction of just over 2,000 housing units, including 543 affordable units, as well as a community center and improved transport links.
Barnet's council said the program would also provide a three-entry community school for around 400 students and a nursery.
More about this article: Read More
Source: www.times-series.co.uk
This notice was published: 2021-07-07 15:15:00